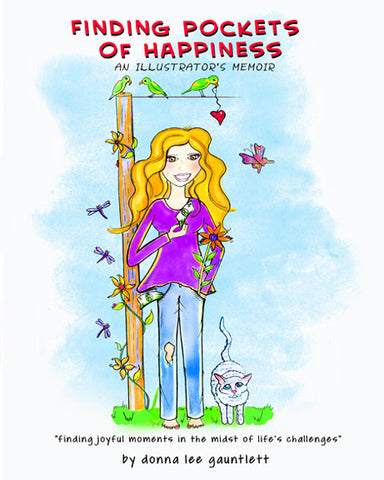 FINDING POCKETS OF HAPPINESS, An Illustrator's Memoir
In pain, challenged by an illness that makes her feel helpless, author Donna Lee Gauntlett finds joy.
Finding Pockets of Happiness: An Illustrated Memoir reveals how it is possible to find moments of joy and happiness that, even in the darkest days, bring a smile to your face.
For Gauntlett, that joy is tapping into her art skills while overcoming sickness and injury. Time she spends recovering becomes time she spends discovering her skills—and uncovering the bravery needed to step outside of her comfort zone to sell her art and speak in public.
It isn't the end of her struggles, though, as she loses her pets and goes through other major life changes. But Gauntlett embraces her inner child, turns her passion into purpose, and learns to be grateful for the small things in life.
Whether readers are going through midlife crises, attempting to find happiness and inspiration, or overcoming illness and looking for hope, they will find their own joy in this beautifully illustrated memoir.
---
We Also Recommend