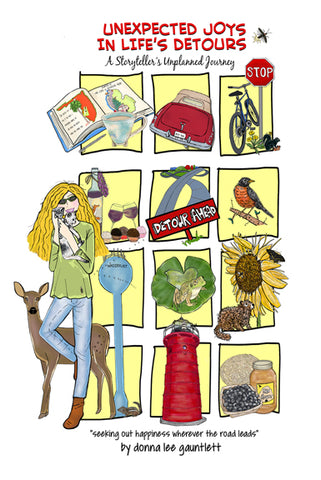 UNEXPECTED JOYS IN LIFE'S DETOURS, An Illustrator's Unplanned Journey
WHO NEEDS A SUITCASE ANYWAY? 
Artist, Donna Gauntlett was traveling 1200 miles away from home, and her suitcase wasn't the only thing she was leaving behind:  her husband, pets, and art supplies would also have to wait for her return six months later. 
Gauntlett embarks on a challenging adventure starting with a road trip with her senior parents and their Pekingese dog as she travels back to her birth town that she left behind when she was a child.
While helping her parents with their health struggles as well as managing her own,  Gauntlett is determined to seek out happiness wherever life takes her:  doctors' offices, grocery stores, and even cemeteries.  She challenges herself to "find the extraordinary in the ordinary."  
This whimsically illustrated memoir encourages us to embrace life's everyday moments while dealing with "life's detours."
---
We Also Recommend